How to Install XFCE desktop in Fedora 36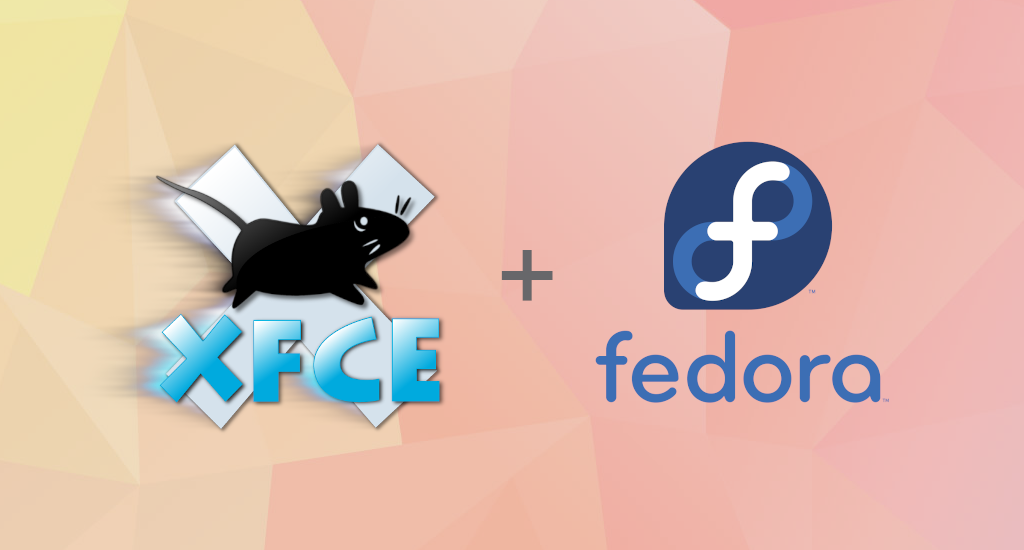 Update 26-08-2023: How to Install XFCE desktop in Fedora 38.
Xfce or XFCE is a free and open-source desktop environment for Linux and Unix-like operating systems. It is a lightweight, highly customizable desktop environment for the Linux platform.
In my previous article, I wrote a guide to install Xfce to a Fedora 35 system. Now, we'll try to install it to a Fedora 36 system.
Why Xfce?
Lightweight – Have you tried to run Gnome on a Core 2 Duo processor recently? If the answer is yes, I salute you. You're a very patient. As a matter of fact, this is not the case with Xfce. Due to its simplicity nature, it will runs fine on old systems.

Simplicity – For me, when we're running Gnome or KDE, they're very bloated and does not follow the KIS (Keep It Simple) principle. On the other hand, Xfce promotes simplicity from its core. From the placement of icons to the menu bar, everything can be understood in a short period.
Stability – In terms of stability, instead of releasing a new version every six months, the team behind Xfce believes in a more reliable experience and this is the only reason why Xfce is often paired with Debian because they both bring the same vibe of stability.
XFCE Installation in Fedora 36

To install the XFCE desktop on a Fedora 36 system we can use the dnf install command. XFCE package is defined under "@xfce-desktop-environment" package group. This package group will pull in the desktop, along with various XFCE apps.
$ sudo dnf install @xfce-desktop-environment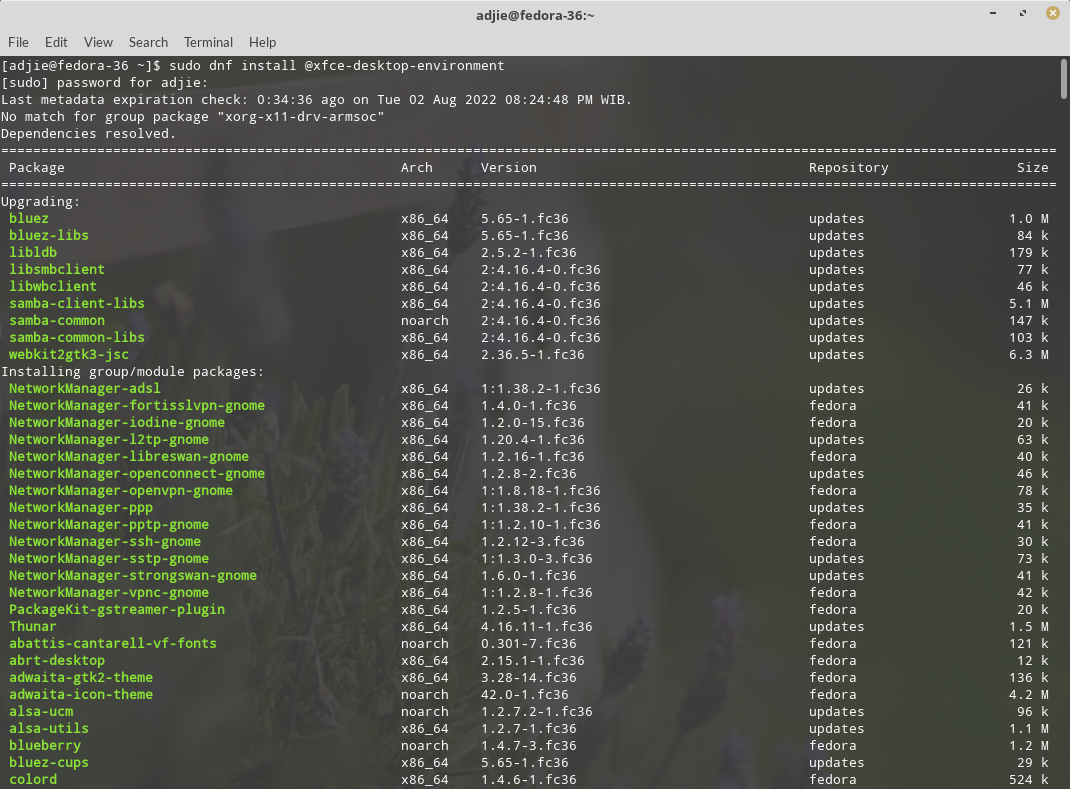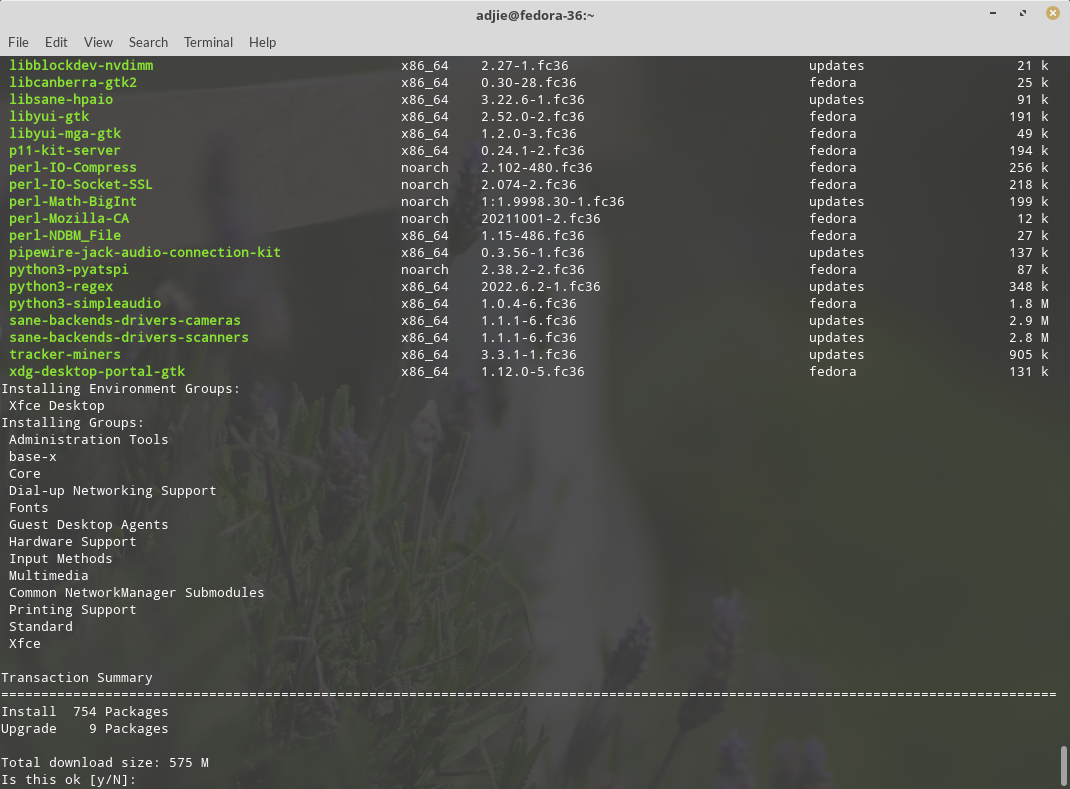 It will ask for confirmation. We can press "Y" followed by "Enter" to continue with installation.

The system will then downloads all required packages and installed all of them. This process could take few minutes, depends on your internet connection speed. Once the Xfce installation finished, let's restart the machine.
$ sudo shutdown -r now
Once the system back online, log in as usual. To start XFCE desktop environment, use startxfce4 command:
$ startxfce4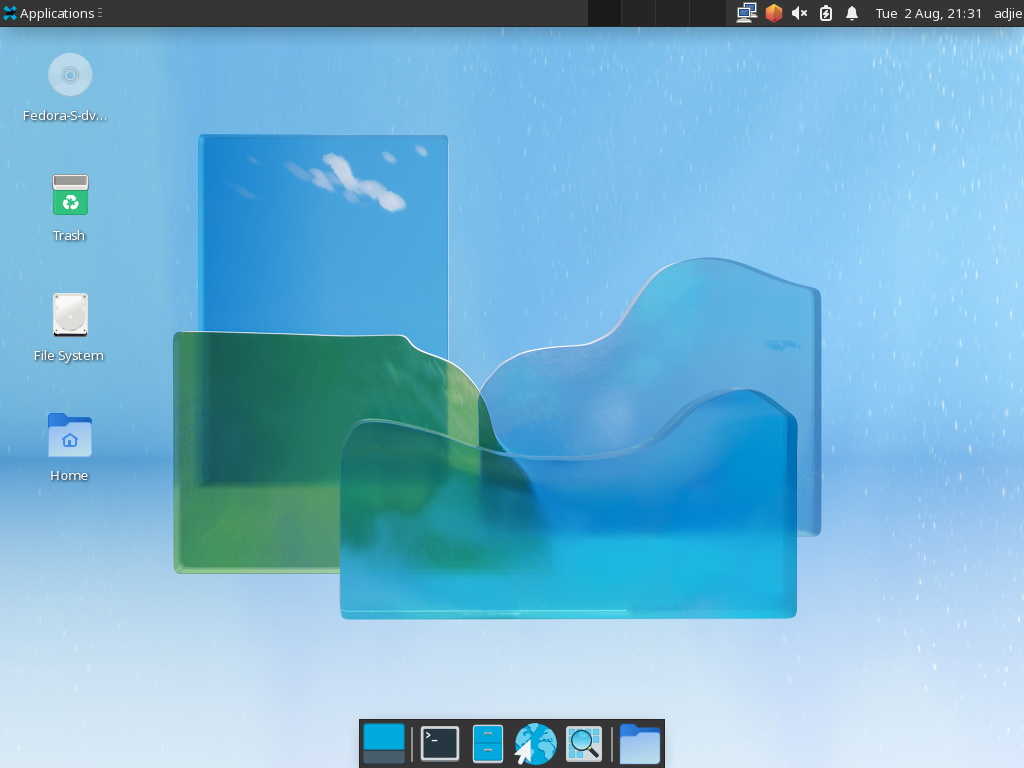 Voila! We've successfully installed XFCE 4 to our Fedora 36 system.
Final Words
I hope that you now know how to install XFCE 4 in Fedora 36. If you run into any issues or have any feedback feel free to drop a comment below.